Get to know our newest physician, Dr. Kathryn Snow PREG/Lowcountry
Kathryn Snow, M.D., M.H.A
Reproductive Endocrinologist
Tell us About Yourself
I was born and raised in Charlotte, NC and my mom was an English teacher, and I always sort of gravitated toward how she was in school. She was even my English teacher and I was always amazed at what informing people correctly can do for you. Coupled with my Dad having health issues growing up I sensed a calling to health and medicine. I truly feel doctors need to educate their patients about what is going on no matter what field it is, so having my Mom's teaching background and having exposure to health issues in my family helped me have this desire for my patients.
I went to UNC-Chapel Hill for my undergraduate degree and I stayed on for a Masters in Health Administration because prior to medical school, I thought about perhaps becoming an administrator in a healthcare practice or hospital. But I really felt like I had a calling to work with patients and knew I would regret it if I didn't. So I ended up going to medical school at Virginia Commonwealth University School of Medicine in Richmond, VA. It was a great experience and a great school and gave me the chance to live outside of the state of North Carolina. I went to Mount Sinai in New York City to complete my OB/GYN residency and that's where I met my husband who is an emergency room physician. It was such an amazing place to live, experience, and learn.
What brought you to the Lowcountry?
My husband and I felt we wanted a slower pace for my fellowship training, and we moved to Duke where I started my training in REI fellowship. One of my mentors at Duke told me about PREG, and we had a casual conversation on the phone. There wasn't a position open at the time, but I remember they circled back with me, and it happened to be on my birthday. I got an email that they were opening an office in the Lowcountry, and I remember thinking wow this is the best move for us!
How Does Your Health Administration Masters Help You in Practicing Medicine?
You know I think it helps because you end up having a global view of things more so than if you only had a clinical view. So while I'm new to this practice, my mind is always wondering how things work with different insurances and what the patients see on their end. Just trying to understand what plans are available for patients and how all the pieces come together I think it helps you when you practice medicine. You have a greater understanding of the in and outs of the practice.
What's your wheelhouse in reproductive medicine?
For me, it's the connection with patients. I mentioned my Mom being a teacher, and I feel like whenever I sit down with somebody and try to explain things to them and then they say something along the lines that, "nobody has ever said that to me or explained it that way," that is the best part of my day. Because I feel that the most important part of my job is to give people options and make them feel informed. There's so many ways to get information nowadays, but as physicians, we get very well-trained and we try to understand why people are coming to see you. And people should come to you for your grounding in medical literature, expertise and advice. They don't know if the information they research is good or bad, and it's up to us as doctors to provide the best information possible so they can make the best decision for their health and family.
How do you deal with the plethora of online information available to patients?
I feel like any patient is going to go online and look things up and I don't discourage that. However, I do think sometimes it confuses people and complicates things, and it's our job as their physicians to help them filter through that information. Especially in the fertility world people want to have a baby and they feel like it's a struggle and they want to do whatever it takes, but there are a lot of things out there that aren't the best route to take and it's really our job to steer people into what is the best realm of options.
Isn't your work so rewarding?
It is! I love this job and think when I was an OBGYN the job was very clinical – running to deliver a baby or doing that emergency C-section that took a lot of physical stamina. But this calling is very emotional because you get connected with your patients on a different level. And the successes you feel are your successes and their failures are also your failures, and that's really hard. You feel a strong sense of giving patients hope.
How Do You Unplug and Take Time for Kathryn?
I feel like being outside and going to the beach with my husband and my dog helps me unwind. My husband is an ER doctor so especially this time with Covid has been a challenging time and there's been a lot of sadness so we just try and enjoy our hobbies and our city. You just have to take it day by day at times.
What Are You Most Excited About in Fertility Care Today?
I think one of the most incredible things I've seen over the last few months is that patients have options in terms of coverage and insurance. Access to care is getting easier for people which makes our job so much easier, and it seems like patients have options that they didn't have before. The opportunities for young women to control their reproductive choices via egg freezing are growing and helping people navigate what they want to do with regard to their family building is amazing.
What's the most joyful and challenging part of your day?
I think the most joyful part of my day is when a patient you've been working with for a long time gets pregnant or when you've done her last OBGYN scan and she's graduating from the practice. She is graduating her care to her OBGYN, and as a parent or physician that's what you want to see, her moving forward. That is one of the most rewarding parts of my day. As for the challenging part – having to deliver unfortunate news that you and your patient weren't expecting or you didn't want is definitely hard. It's just as important if not more important to be there for somebody during that time because that's when they need you the most.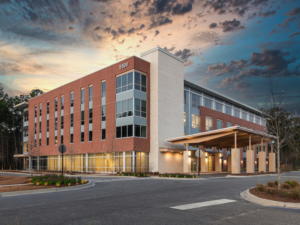 Describe the culture at PREG Lowcountry
I love this practice! It is one of the most harmonious groups I've ever had the pleasure of working with! This staff and team have been working together for so long, and they are truly a well-oiled machine. They have a lot of fun together which really translates to patients I think. We have a more relaxed atmosphere and you feel like you have time to relax with your patients and not go too fast with them.
How has the new patient portal helped?
A patient can put in their history and it is populated on the physician end so I can make adjustments accordingly, but it's nice because it gives you a running head start on a visit so you then don't have to spend all this time going through details that they can pop in ahead of time. This allows you to really spend more time counseling the patient. From the patient side, they have a way to always communicate with us and see their results, so it's a great tool for us to have.
What do you do for fun and relation?
We love to travel around the world. Our yellow lab, Toby, is extremely spoiled and loves to get in the water at the beach. Lately because of Covid, we just like to cuddle and catch up on shows, hang out and be boring people!
PREG has centers in Greenville, Spartanburg, Asheville, Columbia, and the Lowcountry where we offer highly personalized fertility care and management. Dr. Snow sees patients in our Lowcountry center. For more information on your reproductive options contact us today at 866.725.7734, or online at www.pregonline.com/contact-us.php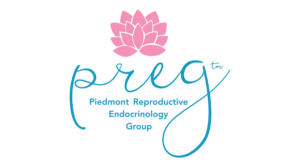 Dr. Kathryn Snow, M.D., M.H.A.
Reproductive Endocrinologist
PREG, LowcountryShare: